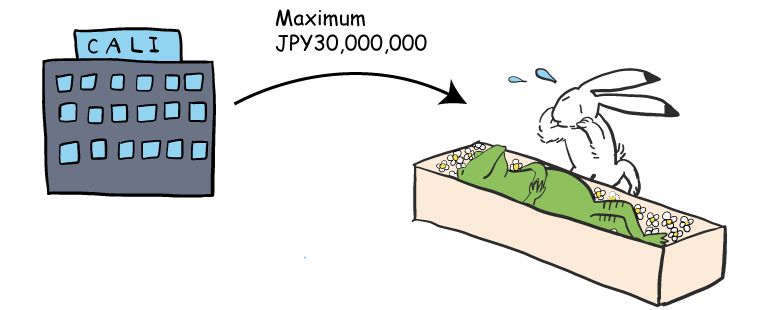 If a victim died in the automobile accident, CALI compensates JPY30,000,000 as maximum based on actual monetary loss. Following is cost breakdown CALI pays:
Article
Specification
Insurance
Funeral cost
For funeral wake, alter, committal and gravestone

JPY600,000

In case where you can prove all the cost is up to JPY600,000, the cost under JPY1,000,000 can be compensated.

Lost wage

Cost of wage which a victim could have earn if he/she didn't die, minus his/her living cost

It is calculated based on victim's income, workable period, whether he/she has dependents.

Benefit (1)
For dead victim
JPY3,500,000
Benefit (2)

For family (parents, a partner in marriage and children)

For one bereaved: JPY5,500,000

For two bereaved: JPY6,500,000

For more than three bereaved: JPY7,500,000

In case where a victim has dependents, JPY2,000,000 is to be added to the above cost per one dependent.
A victim might have needed medical treatment until he/she died. In this case, medical expenses are compensated by CALI for bodily injury of which the upper limit is JPY1,200,000.
If JPY30,000,000 is not sufficient for your loss, claim the rest amount of compensation to the at-fault driver.